Horsemanship Sessions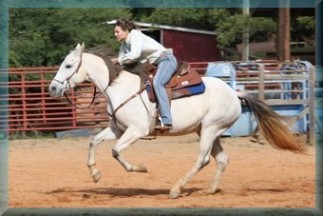 We offer lessons in general horsemanship, western riding, showing, and horse training. Each person participating in riding lessons will be required to sign a liability waiver. Download the waiver here.
Who can take lessons?
What can I learn?
What can I expect at a lesson?
How much do lessons cost?
Where are lessons held?
When are lessons held?

Who can take lessons?
Anyone! We have riders from age four to senior citizen, from beginner to advanced.
What can I learn?
Depending on your skill level and preferences, the following are some of the skills you can learn:
General horsemanship (horse and tack care)
Natural horsemanship techniques, including round pen and ground work
Western riding—beginner to advanced
Barrel racing and pole bending
Western pleasure, Western horsemanship and Trail classes in the arena
Working cows
Roping
Colt starting and training demonstrations
English riding (must bring own horse and tack)
Other skills/disciplines upon request and as experienced staff are available (we've even taught lessons in Mongolian riding!)
What can I expect at a lesson?
For group lessons, we normally have several stations in the arena where students learn and practice various skills. We do not do mindless circles. While most lessons begin in the arena, we frequently practice skills with various obstacles. Occasionally, we videotape each student so they can view, evaluate, and discuss their performance with their instructor. All horseback riding lessons include aspects of horse care and training as well as riding.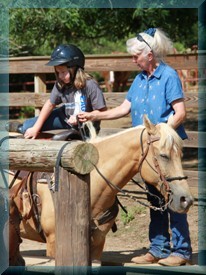 Lessons, even in small groups, are tailored to individual needs and preferences. You will be matched with a well-trained, reliable lesson horse and an experienced instructor. Most riders will also be paired with a wrangler for one-on-one attention and safety. While we constantly challenge you to improve, we will not force you to progress beyond where you are comfortable.
Most riders opt to follow our Levels program, learning specific skills that build from basic to advanced horsemanship. Upon completion of each level, the student may acquire a colored TWQC cowboy silk scarf. This is a sign of accomplishment for work well done, and students eagerly anticipate the award. Students who pass each Level may participate in the flag routine for our horse shows and gymkhanas.
Many students also participate regularly in our horse shows and gymkhanas. These events provide riders with personal goals to strive for, as well as an enjoyable time to meet other equestrians and invite friends and family.
We do not cancel lessons on rainy days. There are many skills we can learn inside the barn, including bareback balancing skills, horse massage, roping, and many other aspects of horse and tack care.
How much do lessons cost?
Small group lessons, 2 hours: $55
Private lessons, 1 hour: $75
We offer discounts for paying a month in advance.
Please contact us to schedule a lesson. There is no refund for lessons cancelled without prior notification. If you must miss a lesson for any reason, please notify us at least one day prior to your scheduled lesson.
Where are lessons held?
All lessons are held at 1447 Jones Mill Road in Fountain Inn, SC (get directions).
When are lessons held?
Winter Schedule (starts with daylight savings)
Mondays & Thursdays 4:30-6:15pm
Saturdays 2:00-4:15pm
Summer Schedule (ends with daylight savings)
Mondays & Thursdays 5-7pm
Saturdays 4-6pm
Private lessons are scheduled during or around group lesson times.