Ranch History
Tom created his unique

brand using his initials, TW, and a quarter circle.
Roots: TW Quarter Circle Ranch in Montana
In the late 1800s, Vern Wimer came with his father and sister to homestead in Montana. He later married his neighbor, Louise Wright, and together they raised three boys: Frank, Tom, and Bobby.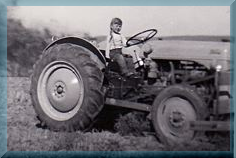 As soon as he was old enough, Tom Wimer acquired his own homestead nearby. His hard work paid off as the TW Quarter Circle Ranch (see photos) grew into an efficient cow-calf operation. Tom left ranching temporarily to join American forces in Europe during World War II. Upon his return to TWQC, he married Donna Bean and resumed ranch life. The couple had three children: Beverly, Barbara, and Carol.

Read more about the prairie fire and the Wimer's testimony.
Beverly, or Bev, grew up as a typical ranch kid, working alongside her folks. She proved an able hand and soon took on the responsibilities of head wrangler at TWQC, which included selecting and training horses for ranch work. She later left the ranch to attend Montana State University, where she met Curt Doherty, a fellow secondary education major who also shared her interest in horses. Curt and Bev were married in 1970.
Five years later, the Dohertys' plans changed forever when they both accepted Jesus Christ alone for their salvation. They committed their lives to fulltime Christian service, leaving Montana and the ranch behind as they traveled across the country to serve in Christian education.
In 1996, the Dohertys hurried home to Montana after Tom and Donna Wimer were killed while fighting a prairie fire on a neighbor's ranch. Having responsibilities of their own and no one to continue the ranching tradition, the Wimer family reluctantly sold the ranch. Curt and Bev returned to South Carolina to leave TWQC Ranch behind forever . . . or so they thought.
Rebirth: TW Quarter Circle Ranch Ministries in South Carolina
In 2000, Bev offered to teach horseback riding lessons as a "mini-camp" for disabled students at Hidden Treasure Christian School in Greenville. Since the Dohertys did not own horses at the time, Don and Martha Snyder generously agreed to loan their horses and facilities at the Double S Ranch in Fountain Inn. The mini-camp was a success, and immediately, community members who observed Bev's horsemanship abilities asked her to give them lessons as well. Bev agreed, and the number of riding students grew quickly. Seeking a name for this new ministry, the Dohertys decided to revive the Wimer brand with a new emphasis: TW Quarter Circle Ranch Ministries.
The ministry grew rapidly. In 2001, TWQC offered its first summer horsemanship camp. By the next summer, the camp had extended to three full weeks and included chapel messages. As the number of riders exceeded the availability of Double S horses, the Dohertys acquired several horses of their own from Montana. In 2007, the ministry hearkened back to its origin in special education as it added services for disabled students. One year later, recognizing the tremendous value and impact of the TWQC volunteers (or "wranglers"), the Dohertys added a week of wrangler training camp. They also began a weekly Bible study. Recently, the Dohertys took a leap of faith as they left their teaching positions to serve fulltime in the TWQC ministry.
Today, the ministry offers numerous opportunities for spiritual mentorship and horsemanship instruction. The latest ranch activities include horsemanship instruction, summer camps, trail rides, horse training, statewide equestrian competitions, special needs riding, Bible studies, demonstrations, youth group activities, and more as the Lord provides the means. With the constant support of faithful volunteers and donors, TW Quarter Circle Ranch Ministries continues to develop and expand, reaching out to others with the love of Christ.
Future Plans
If God provides the means, we would like someday to achieve the following goals:
Develop an equestrian program that ministers to families in crisis.
Expand our current special needs riding program for the disabled.
Accommodate resident campers for summer camps, family camps, and retreats.
Develop a working cow operation with real ranch opportunities for students.
Offer biology clinics and camps (equine genetics, botany, birding trail rides, etc.), especially targeting homeschooled students.