Willow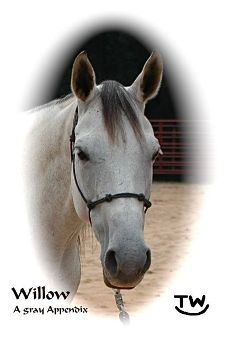 Registered name: Humpty Bumpty (AQHA #X0569230)
Born: April 17, 1998
Height/weight: 15.1 hands, 1070 lbs.
Color/markings: Gray
Bloodlines in pedigree:
Swaps:

Five world records at a mile or more. Goes back to the immortal Man o' War, via his dam, Iron Reward, through the Triple Crown winner, War Admiral. In the list of the top 100 U.S. thoroughbred champions of the 20th Century by Blood-Horse magazine, Swaps ranks 20th.
Owner: TW Quarter Circle Ranch
Bio: As an athletic, high-energy Appendix, Willow loves to run! Even her walk is fast. Since she was quite an actress, she used to perform with Bev in our round pen demonstrations. At first, she would exhibit rebellious behavior, tossing her head and kicking out. She showed her athleticism by doing flying lead changes when Bev pointed a finger. At the end, she would lower her head and come submissively to Bev. Actually, Willow enjoys being with her owner and is always the first horse to spot Bev when she arrives. During demonstrations, Bev can easily ride her bridleless. The most vocal of our horses, Willow loves to "talk" and enjoys relaxing with people. While all our horses are easy to catch, Willow goes the extra mile: if you ignore her, she will come up and stick her nose in the halter! She has trained many people for barrel racing, a sport in which she excels. Since she is responsive to the slightest movements of her rider, Willow also helps more experienced students fine-tune their skills and cues. Willow is now retired part time to be a brood mare at the ranch. She still trains many people in the months leading up to her deliveries.
Accomplishments:
2014:

Reserve Champion: Adult Arena Race; Adult Barrels

2012: