Sundance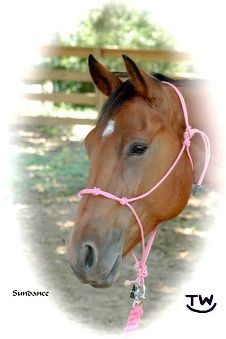 Registered name: Rock A Beau (AQHA #4556635)
Born: May 12, 2004
Height/weight: 15.1 hands, 1250 lbs.
Color/markings: Bay with star and two white socks
Bloodlines in pedigree:
Quincy Prestige:

AQHA Points in Halter & Reining, Grand Champion at Halter, MQHA High Point Halter Stallion Amateur-1988

Mach I:

AQHA Supreme Champion

Goldie Bars:

AQHA Supreme Champion

Three Bars:

Had greatest impact on QH breed of any horse in history. Left his mark in racing, halter, cutting & other performance events. Sired 29 AQHA Champions, 14 World Champions in racing. AQHA Hall of Fame
Bio: When the Dohertys were bringing Sundance home from Montana, Curt and Sara noticed that they were traveling through Sundance, Wyoming, and the name stuck. Sundance had a laid-back and sweet temperament. He loved constant contact and often put his muzzle right on a person's ear to say hello. He would also give great "hugs" (on cue) by wrapping his neck and head around a person standing beside him. Sundance was purchased by the Brashiers and now lives with them in Simpsonville. He is being used in an Equestrian program at Sydney's school.