Skalkaho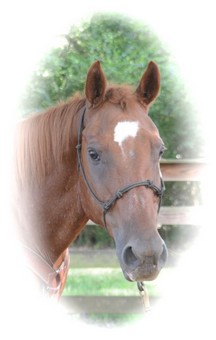 Registered name: Unregistered (Grade Quarter Horse)
Born: Unknown (probably around 2004)
Height/weight: 15.1 hands, 950 lbs.
Color/markings: Sorrel with a white star, one white sock, and one white coronet.
Bloodlines in pedigree: Unknown
Owner: Curt and Bev Doherty
Bio: Finding a gentle kid-safe horse that is large enough to also carry heavier riders is quite the difficult task. We spent several months searching for just this type of horse when our farrier called us with a recommendation. He was so convinced that this horse he found would work for our needs that he went out of his way to make arrangements with the previous owner for us to buy him. Within minutes of riding this gentle giant, we knew that he was exactly what we were looking for! Skalkaho is currently Mr. Doherty's faithful mount, but he is also a favorite of many students and visitors. Mr. Doherty named Skalkaho after an Indian word meaning "Happy Trails" or "Many Trails." The white marking on his forehead also reminds us of the shape of Skalkaho Falls in Montana.