Sequoyah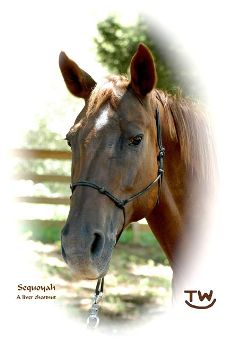 Registered name: Shipalong (AQHA #3014497)
Born: April 19, 1991
Height/weight: 15.3 hands, 1210 lbs.
Color/markings: Liver chestnut with star and one white sock
Bloodlines in pedigree:
Bold Ruler:

American thoroughbred Hall of Fame racehorse. Sired Secretariat and was the great-grandsire of Seattle Slew. Listed No. 19 in the Blood-Horse magazine ranking of the top 100 US thoroughbred horse racing champions of the 20th Century

Jet Deck:

AQHA Hall of Fame. Champion, SI-100, Stakes Winner. AQHA Hall of Fame. Sired the great Easy Jet, plus progeny that earned more than $6,804,289. He sired Gallant Jet, the sire of First Prize Rose, dam of the great First Down Dash. On 8/26/1971, Jet Deck was found dead in his paddock the result of an overdose of barbiturates. The killers were never found.

Three Bars:

Had greatest impact on QH breed of any horse in history. Left his mark in racing, halter, cutting & other performance events. Sired 29 AQHA Champions, 14 World Champions in racing. AQHA Hall of Fame (QH racing).
Owner: Marietta Parrott
Bio: Sequoyah is named for the big redwood tree (but spelled like the Cherokee scholar). In her early years, Sequoyah was a rodeo horse doing a multitude of events; her specialty was Rope Heading horse. Because she was ridden hard during those years, she often has sore muscles that require gentle massage to relax. Her next owners, the Dohertys, acquired Sequoyah from an American Indian reservation in Montana. At the time, she was pregnant with Bridger. With permission from her current owner, Sequoyah is still used in the ministry. She moves so smoothly that she makes everyone feel and look like a great rider. Although she seems rather aloof, she actually pays close attention to her riders and adjusts readily to their varying levels of ability and confidence. Riders may be initially intimidated by her size and powerful build, (She once cleared a seven-foot fence with ease when running from a hailstorm!) but Sequoyah is a gentle giant. If a small child reaches up to pet her, she often lowers her head to their height so they can reach her nose.
Accomplishments:
2014:

Champion: Youth Showmanship; 12 & Under W/J
Reserve Champion: Working Western Youth W/J