Rosebud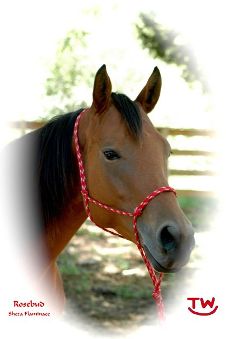 Registered name: Sheza Flaminace (AQHA #4442559)
Born: July 4, 2003
Height/weight: 14.3 hands, 1190 lbs.
Color/markings: Bay with no other markings
Bloodlines in pedigree:
Special Effort:

Racing career will be etched in Quarter Horse Racing history as one of the finest ever. The first and only American Quarter Horse to sweep the Triple Crown at Ruidoso Downs. Dominated the All American field by 4 lengths over a muddy course in 1981. Went on to be named Champion 2 year old Stallion, Champion 2 year old, and World Champion for 1981. Returned in the 1982 season to capture the Grade 1 Kansas Derby, before retiring to stud with a race record of 13 wins in 14 starts.
Owner: TW Quarter Circle Ranch
Bio: We acquired Rosebud on the Crow Indian Reservation in Montana when we bought another horse. Rosebud was thrown in as a package deal. From that scrawny weanling grew one of the most beautiful horses on the ranch. People are drawn by her delicate head and brown, doe-like eyes as well as her beautiful color and thick, black mane and tail. Her naturally slow, smooth trot makes her a perfect competition horse in western pleasure, western horsemanship, and trail class competitions. Even so, her muscled hindquarters show that she is powerfully built in traditional Quarter Horse fashion. Although she has been a great asset to the ministry as a show horse and a lesson horse, she has proven even more beneficial in recent years as a broodmare. Both of her fillies (Lakota and Madison) can still be found at the ranch and have inherited many of Rosebud's characteristics.