Remington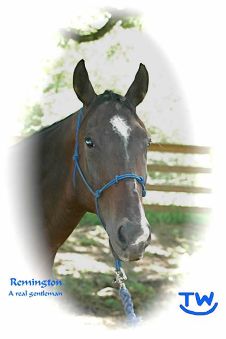 Registered name: Stage Bar Black (AQHA #3230278)
Born: May 14, 1993
Height/weight: 15 hands, 1250 lbs.
Color/markings: Black with a star, strip, and snip, and two white socks
Bloodlines in pedigree:
Tiny Bay Hancock:

1980 AQHA World Champion Calf Roping Mare, AQHA Superior Calf Roping Horse, National Champion Roping Mare

Frosty Feature:

Going back to War Admiral, Kentucky Derby and Triple Crown Winner
Owner: Curt & Bev Doherty
Bio: Remington makes people laugh when they hear his infrequent but very deep bass whinny. Most people are drawn to him for his quiet, gentlemanly disposition. He is a retired rope horse who gets nervous and anxious to run at our shows, but he has the easiest trot and lope of any Quarter Horse we have ridden. Remington is very sensitive and responsive to cues as subtle as tensing leg muscles, so he teaches students to ride with a relaxed seat. We originally bought Remington because our granddaughter Anna fell in love with him at first sight. We figured there must be something to him, and that has turned out to be the case. Remington was retired in 2013 and is now used occasionally for light trail riding.