Pretty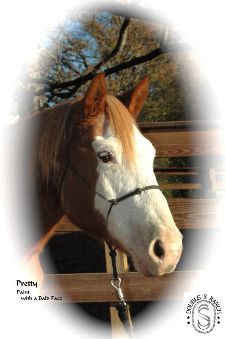 Registered name: Pretty Too (APHA #111,728)
Dates: May 16, 1985 - February 5, 2013
Height/weight: 15 hands, 1060 lbs.
Color/markings: Sorrel and white Paint (Overo) with four white socks and a bald face
Bloodlines in pedigree:
Cee Bar Bell 76
Versary Bars:

Halter National Champion, Register of merit in Reining and Western Pleasure.

Three Bars:

Had greatest impact on QH breed of any horse in history. Left his mark in racing, halter, cutting & other performance events. Sired 29 AQHA Champions, 14 World Champions in racing. AQHA Hall of Fame.
Owner: Don & Martha Snyder, Double S Ranch
Bio: Since she was so calm and easy to guide, Pretty carried our youngest and least experienced riders; she seemed to know just what to do, even when her rider didn't. In her younger years, she earned points in reining. Pretty passed away in February 2013 at the age of 27. She will be remembered by many people as the first horse they rode at the ranch, as she was always eager to train new riders. She left a large hole in our horsemanship program and in our hearts!