Latigo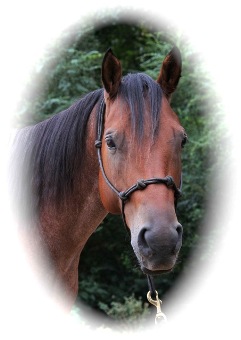 Registered name: Rustys Two Eyes (AQHA #4647527)
Born: May, 19, 2005
Height/weight: 15 hands, 1070 lbs.
Color/markings: Bay Roan with freeze brand on left thigh (MH)
Bloodlines in pedigree:
Old Sorrel:

AQHA Hall of Fame (Ranch Horse)

Grey Badger:

National Foundation Horse

Joe Hancock:

National Foundation Horse

Two Eyed Jack:

The leading all time sire of AQHA Champions. Halter and Western Pleasure showhorse. AQHA Performance ROM, AQHA Champion, AQHA Superior Halter Horse, American Quarter Horse Hall of Fame. In 2007,

Western Horseman

magazine chose Two Eyed Jack as number four on their list of top ten ranch horse bloodlines.
Owner: TW Quarter Circle Ranch
Bio: The first cold snap the winter of 2010 when the Doherty's had Latigo, Bev looked out into the pasture and saw him and thought that it had snowed overnight. Latigo looked like he had a dusting of snow on his back. She then realized that he was a bay roan. He will probably get even more graying, but right now he has a smattering on the top line of his body. This is the first bay roan for the TW Quarter Circle. Latigo came originally from Oklahoma, so he has that "Touch of the West" so well known at the TW Quarter Circle Ranch. Being a very sweet, mild tempered horse that attracts people, he is lavished with attention. He has been described by Bev's sister Barb (a retired professional barrel racer) as a "Million Dollar Horse" not only because of his personality, but also because of his athletic abilities and talents. In fact, the ranch was recently offered a high price from someone wanting to purchase him, but the ministry decided to pass up the offer. He will be showing next year and will be developed into a speed event horse. We feel he has only scratched the surface of his potential.