Jordan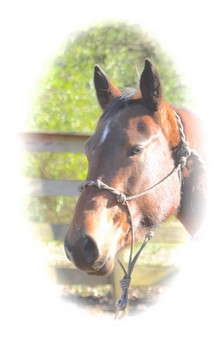 Registered name: Boons Scootin Boogey (AQHA #5608832)
Born: April 12, 2014
Height/weight: 14.3 hands (still growing), 790 lbs.
Color/markings: Dark Bay with two white socks and a small white star
Bloodlines in pedigree:
Dual Pep:

Leading sire of Cutting horses

Zan Parr Bar:

AQHA Hall of Fame. Showed in halter and calf roping. Famous sire of show horses
Owner: Curt and Bev Doherty
Bio: With her graceful movements and naturally low headset, Jordan has immediately shown promise as a western pleasure horse. We hope that with experience, she will also become a great lesson horse. Like many of our horses, she was named after a town in Montana; however, her name also has a special Biblical meaning. You may remember the story of Joshua leading the children of Israel over the Jorden River into the Promised Land. After allowing his people to wander in the desert for forty years as a direct result of their disobedience, God miraculously moved the mighty waters allowing them to walk safely across on dry ground. Before God returned the waters to their place, He commanded Joshua bring stones up from the dry river bed and set them up for all to see. These stones were to serve as a reminder of all the ways God had provided for his people during not only those forty years, but also the many years of captivity in Egypt. Just like the children of Israel, we have a propensity to forget God and turn away from Him. We need to be reminded often of God's goodness. Jordan, like the other horses at our ranch, serves as a daily memorial to us of God's abundant love and care.