Glacier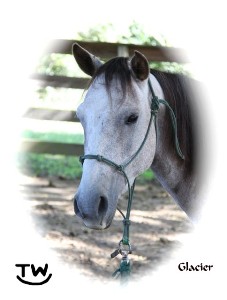 Registered Name: Not registered (grade Quarter Horse)
Born: 2009
Height/weight: 14.1 hands, 800 lbs.
Color/markings: Gray with blaze, black mane and tail, and black points
Bio: Named for Glacier National Park in Montana, Glacier has a teddy bear personality that really draws people to him. He was started as a colt in Wrangler Training Camp 2012 and entered the Western Pleasure class at the TWQC show in June, just a few weeks after his first ride. He is now serving in another ministry as a trail horse.