Frost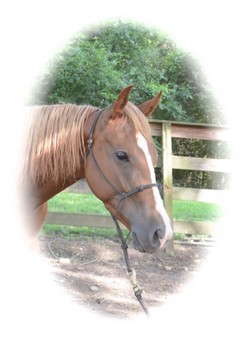 Registered name: Docs Bars Frost (AQHA #5586295)
Born: May 15, 2013
Height/weight: 14.1 hands, 780 lbs.
Color/markings: Sorrel with a flaxen mane; a blaze face
Bloodlines in pedigree:
Doc O'Lena:

AQHA Hall of Fame, won the 1970 NCHA futurity

Sun Frost:

Most known as a sire of Performance horses. His offspring have won over of over $2,000,000 in earnings

Blue Valentine:

National Foundation Horse
Owner: Marietta Parrott
Bio: Doc Bars Frost is named after the many famous horses in her pedigree. This lineage combined with her gentle disposition and great conformation would have made her an excellent prospect for any discipline; however, an injury she sustained as a two year old will permanently keep her from heavy work or from a life in the show ring. Though we are saddened by this tragic accident, Frost seems content to spend her days being used as a broodmare and as an occasional lesson horse. Perhaps her future foals will carry her legacy into the show ring.