Dixie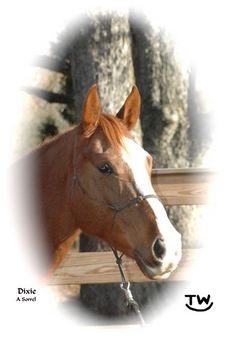 Registered name: Leo Bailey Olena (AQHA #4053516)
Born: May 9, 2001
Height/weight: 15 hands, 1130 lbs.
Color/markings: Sorrel with a blaze face and white on lower lip and chin; three white socks
Bloodlines in pedigree:
Frosty Leo San
Doc O'Lena:

AQHA Hall of Fame, won the 1970 NCHA futurity
Bio: Originally from Montana, Dixie (once called "Moccasin") was a favorite with riders at the ranch. A former TWQC student, Sasha Pacentine, started and trained her for both English and Western riding. Dixie has won many first place ribbons with her current owner, Georgia Caroline, who battles cystic fibrosis. Together, they are excelling in numerous events on the high school rodeo circuit.