Diamond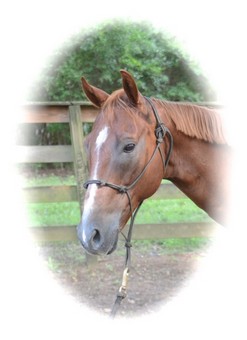 Registered name: Unregistered Appendix Quarter Horse
Born: 2002
Height/weight: 14.3 hands, 870 lbs.
Color/markings: Chestnut with a star, snip and snip
Owner: Samantha Nyhus
Bio: When Samantha moved to South Carolina from Hawaii to go to college, she didn't want to leave her horse Diamond in the Rough behind. After some research, she decided to ship him here via Fed Ex. In Hawaii, he was a primarily a hunter/jumper but dabbled a bit in the western world. Here in South Carolina, he has loved honing his skills in the western disciplines and it has shown in his accomplishments. Diamond's favorite events are the speed events where he has proven his ability to run quickly. He also loves young children and will slow down to take care of them. He is well loved by many riders because he is so sensitive and steady. He has a smooth, rocking chair lope that is perfect for beginning riders. Diamond loves attention, and will often follow his owner around so she will scratch him under the belly.
Accomplishments:
2016: Adult High Point Champion Horse (Ray Vaughn/Lee Cox Presidential Award)

Champion: Adult Hunt Seat Equitation on the Flat; Hunter Over Fences (2'3"); Equitation Hunter over Fences (2'3"); Open Hunter over fences (2'6") Ranch Horse Pleasure; Adult Barrels; Adult Arena Race (tied)
Reserve Champion: Hunter Over Fences (2'); Equitation Over Fences (2'); Open Jackpot Barrels (tied)
Third Place: Adult Showmanship; Open W/J/L Trail

2015: Adult High Point Champion Horse (Ray Vaughn/Lee Cox Presidential Award); Adult Timed Division Champion (tied)

Champion: Open Jackpot Barrels; 2' Hunter Over Fences; 2' Equitation Over Fences; 2'3" Hunter Over Fences
Reserve Champion: Adult Barrels; 2'3" Equitation Hunter Over Fences; Disciplined Rail; Adult Arena Race; Adult English Pleasure; Adult Hunt Seat Equitation on the Flat; Hunter Under Saddle
Third Place: Open Jackpot Poles; Adult Horsemanship; Working Western Adult; Adult English Pleasure W/J