Colter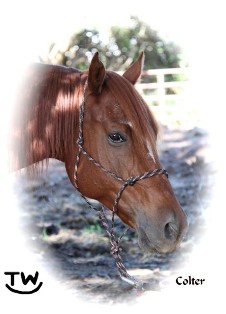 Registered Name: Not registered (grade Quarter Horse)
Born: 2000
Height/weight: 15.1 hands, 1100 lbs.
Color/markings: Chestnut with dark, deep, red mane and tail; star on forehead
Bloodlines in pedigree:
Probably Colonel Freckles: He looks like him and his name was Colonel. Because he is not registered, we don't know for sure, but he has great confirmation and disposition.
Owner: TW Quarter Circle Ranch Ministries
Bio: Colter was given to us by Helen Neely of Greenville in July 2012. Helen had moved 15 miles away from where he was being kept, so he was not being ridden very much. He was described as lazy because he didn't want to trot or lope. He was such a good looking, good conformation horse that we decided to try him for two weeks. We found that his problem was that the person who trimmed his feet had him walking on the back of his heels which made him very sore. As soon as we got him shod, he was like a different horse. Colter is very personable and loves people. He has become a great addition to our show team and loves running barrels. Colter is named for John Colter (c.1774 - May 7, 1812 or November 22, 1813) who was a member of the Lewis and Clark Expedition (1804-1806). Though party to one of the more famous expeditions in history, Colter is best remembered for explorations he made during the winter of 1807-1808, when he became the first known person of European descent to enter the region now known as Yellowstone National Park and to see the Teton Mountain Range. Colter spent months alone in the wilderness and is widely considered to be the first mountain man.
Accomplishments:
2016:

Reserve Champion: Youth Poles; Youth Barrels; Youth Showmanship; Working Western Youth W/J/L
Third Place: Halter Geldings, Working Western Youth W/J; Youth Arena Race

2015: Youth Working Western Division Champion; Youth Timed Division Champion

Champion: Youth Poles; 12 & Under Poles; Youth Horsemanship; Working Western Youth; Working Western Youth W/J
Reserve Champion: Halter Geldings
Third Place: Youth Barrels; Youth Showmanship; Youth Arena Race