Chinook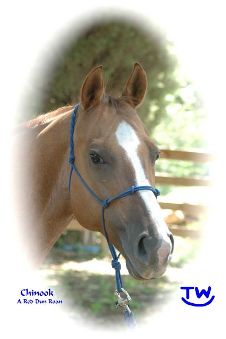 Registered name: Valerie One Dun (AQHA #3463200; FQHA)
Born: May 2, 1996
Height/weight: 15 hands, 1210 lbs.
Color/markings: Red dun roan with a star, strip, and snip and three white socks
Bloodlines in pedigree:
Scooper Hank:

QH Chestnut. Rom Race AAAT, 4 Perf., 8 Superior Perf. 1 Superior Halter

Three Bars:

Had greatest impact on QH breed of any horse in history. Left his mark in racing, halter, cutting & other performance events. Sired 29 AQHA Champions, 14 World Champions in racing. AQHA Hall of Fame (QH Racing).

Continental Dude:

National Foundation horse

Wimpy:

National Foundation horse
Owner: TW Quarter Circle Ranch
Bio: "Chinook" is an American Indian word meaning "Snow Eater," referring to a warm wind that blows through Montana in the middle of the bitterly cold winter. Just as warm wind is a welcome relief to any rancher, so our Chinook is always a welcome sight to her riders; she is consistently calm and dependable. Her coloring is unusual and eye-catching: red dun with unique roaning on the rump and hips. In fact, she looks very similar to Bev's red dun that she trained during college.
Accomplishments:
2016: 10 and Under High Point Champion

Champion: Western Pleasure 10 and Under W/J; 10 and Under Halter
Reserve Champion: 10 and Under Barrels; 10 and Under Poles; Youth Western Pleasure W/J
Third Place: Youth Showmanship; Open W/J Trail

2015:

Champion: Green Horse/Rider; Youth Showmanship; 12 & Under Halter
Reserve Champion: Working Western Youth W/J
Third Place: Open W/J Trail

2014:

Champion: Halter Mares; Working Western Adult; Working Western Adult W/J; Working Western W/J
Reserve Champion: Ranch Horse Pleasure; Working Western Open; 12 & Under Poles; 12 & Under Barrels; 12 & Under W/J Western; W/J Horsemanship

2013:

Champion: 12 & Under W/J; Working Western Youth
Reserve Champion: W/J Horsemanship; 12 & Under Halter; Youth Showmanship

2012:

Champion: Western Pleasure W/J
Reserve Champion: 12 & Under Halter