Charlo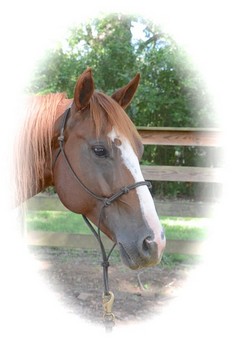 Registered name: HP Highbrow Sonoita (AQHA #5386566)
Born: April 18, 2011
Height/weight: 14.1 hands, 870 lbs.
Color/markings: Sorrel with a blaze face and two freckles; one white stocking, one white sock, and one white half pastern
Bloodlines in pedigree:
Smart Little Lena:

AQHA Hall of Fame. A leading sire of cutting horses.

Doc Bar:

The most influential foundation cutting sire of all time

Sugar Bars:

AAA sprinter, one of the first twenty Three Bars' get to go into the then-highest rating. Sired 30 AQHA Champions. World Champion Sire, Reserve World Champion Sire, Superior Halter Sire, Superior Performance Sire, Race ROM Sire, AQHA High Point Performance Stallion Sire, AQHA Champion Sire

Mr. San Peppy:

Two time Hall of Fame (Cutting), World Champion, NCHA Finals
Owner: TW Quarter Circle Ranch
Bio: If you have ever met a person whose facial expressions perfectly mirror their inner thoughts, you can catch a small glimpse of Charlo's personality. Although she is young and still somewhat inexperienced, she has already made a mark in the show ring. She catches the Judge's attention both by her ability to execute difficult maneuvers and by the sassy flair that accompanies them. Not only have we been pleased by her success in the slow western classes, but we have recently discovered that she has quite the heart for speed events. Charlo seems to especially love barrel racing, and she consistently shoots out of the alley like a small red bullet. If you come visit the ranch, you might notice a bright red horse staring straight at you with her eyes begging for your attention. Be aware though that if you fail to perform this desired action, the expression in those transparent brown eyes will change from one of anticipation and glee to one of sheer disappointment!
Accomplishments:
2016:

Champion: Open W/J Trail; Jr. (horse) Western Pleasure
Reserve Champion: Halter Mares (tied)
Third Place: W/J Horsemanship; Adult Barrels

2015:

Champion: W/J Horsemanship; Jr. (horse) Western Pleasure;
Reserve Champion: Halter Mares; Open W/J Trail
Third Place: Adult Western Pleasure; Adult Western Pleasure W/J; Green Horse W/J