Bridger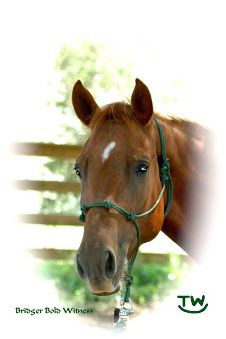 Registered name: Bridger Bold Witness (AQHA #4750445)
Born: April 21, 2005
Height/weight: 16 hands, 1190 lbs
Color/markings: Chestnut with feathered star and one white sock
Bloodlines in pedigree:
Bold Ruler:

American Thoroughbred Hall of Fame racehorse; sire of Secretariat

Three Bars:

Had greatest impact on QH breed of any horse in history. Left his mark in racing, halter, cutting & other performance events. Sired 29 AQHA champions, 14 World Champions in raching. AQHA Hall of Fame (QH Racing).

Jet Deck:

AQHA Hall of Fame (QH Racing)

Doc O Dynamite:

Known for siring champions in cutting, reining, roping and barrel racing. His offspring have won over $684,000 in cutting and reining alone. One barrel horse earned $200,000, and his offspring have earned almost $100,000 in roping.
Owner: TW Quarter Circle Ranch
Bio: When we brought Sequoyah from Montana in July 2004, she was pregnant with Bridger. Even though she was suffering from a copperhead snakebite on her hind leg, she did not need any help delivering her foal. On April 21, when Bev went out to feed the horses in the early morning dawn, there was Bridger. We must have imprinted him well while doctoring his mother, because he would rather be with people than with horses. He looks identical to his mother Sequoyah, except that he has a prettier head and is even taller than she is. Despite his large size, Bridger is very flexible. His ability to bend in small circles combined with his inherited speed make him very competitive in the sport of barrel racing. When Bridger was younger, we did not tell him that he can run like his famous ancestors so he could mature, but now he is running in the World Barrel Racing League, NBHA barrels and CHSA speed events. He seems to really be enjoying it. He still is a great All Around Champion and does especially well at the more challenging patterned classes.
Accomplishments:
2016: Adult Timed Division Champion

Champion: Open Jackpot Barrels; Adult Arena Race (tied)
Reserve Champion: Open Jackpot Poles; Adult Poles

2015: Adult Timed Division Champion (tied)

Champion: Adult Barrels; Adult Arena Race
Reserve Champion: Open Jackpot Barrels; Working Western Adult; Working Western Open
Third Place: Adult Poles; Disciplined Rail; Ranch Horse Pleasure

2014:

Champion: Adult Texas Barrels; Adult Arena Race

2013:

Reserve Champion: Working Western Adult