Barsook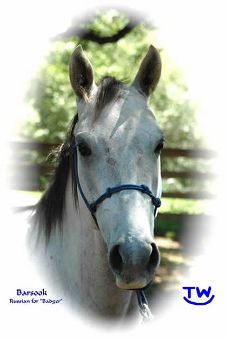 Registered name: Monty Peppy Freckles (AQHA #4392363)
Born: May 25, 2003
Height/weight: 14.2 hands, 1070 lbs.
Color/markings: Gray with a star on forehead
Bloodlines in pedigree:
Doc Bar:

the most influential foundation cutting sire of all time

Mr San Peppy:

two time Hall of Fame, World Champion, NCHA Finals

Colonel Freckles:

AQHA Hall of Fame, Champion of the 1976 NCHA Open Futurity, 19th on the All Time Leading AQHA Sires of NCHA money earners

Doc O'Lena:

AQHA Hall of Fame, won the 1970 NCHA futurity
Bio: When Lynette Pacentine donated Barsook to the ministry, she included this note: "He is so mellow, and I think he would be a great camp horse. It will be neat to have him be a small part of your ministry. You can use his name as an opportunity to share how two little Russian girls were adopted into a Christian family as part of God's master plan in their lives." That is why they named him a Russian name. Barsook is Russian for Badger. That was the name the original owner gave him (because his blood lines go back to the famous Peppy San Badger). Barsook is enjoying his new life as a lesson horse at another facility and is receiving plenty of love and attention. We see him occasionally at the Spartanburg Horse Show Association.