Arapaho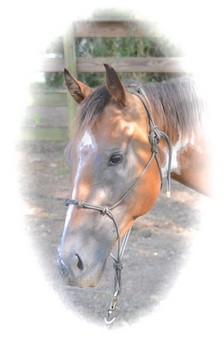 Registered name: Play it Strait (AQHA #1009358)
Born: June 25, 2011
Height/weight: 14.1 hands, 770 lbs.
Color/markings: Bay Tobiano
Bloodlines in pedigree:
Doc Bar:

The most influential foundation cutting sire of all time

Freckles Playboy:

Ranked third in NCHA on the list of all-time leading sires, by offspring earnings. AQHA Hall of Fame (Cutting)

Poco Bueno:

Foundation Quarter Horse
Owner: Curt and Bev Doherty
Bio: Horsemen use the term "Heart" to refer to a horse's spirit, tenacity, determination, and willingness. Arapaho compensates for her small stature with her extraordinary "heart." She is a joy to ride because her desire to please her rider is always evident. Although she is young and inexperienced, Arapaho shows great potential in many different areas. Her training quickly progresses as she masters each new task given to her. She is one of the first horses that most visitors notice due to her flashy painted markings and the gentle expression in her large brown eyes.